I've been trying to get a working PXE install for Debian going, fully automated with preseed file. I'm using the netboot.tar.gz from the
US Debian FTP
. Since I've been working on this for quite a while, I've been doing some things at home. Here I managed to get the PXE boot to work, but on my work network, I just can't get it to boot.
At home I have an ASUS router (for DHCP) and a NAS (for TFTP). I configured my ASUS router with the following line:
Code: Select all

dhcp-boot=pxelinux.0,,192.168.1.10
192.168.1.10 is the address of the NAS, functioning as a TFTP server. With this configuration, everything works perfectly. I connect the machine turn it on, and it runs through the install.
Porting this configuration to our network at work, we had to change things a little, since we use ICS DHCP server, which also functions as a TFTP server. Here, our config is as follows:
Code: Select all

next-server 10.1.1.12;
option bootfile-name "pxelinux.0";
10.1.1.12 is the address of the DHCP/TFTP server. When I do this and try to boot, I keep getting and error saying "Failed to load ldlinux.c32", followed by a boot failure. See screenshot below (click for larger image):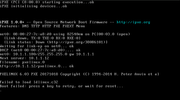 I can't find and y useful resources out there as to what might be going wrong. Hopefully someone here can help me out. Let me know if you need any more information.