Aegisub
Aegisub is a free, cross-platform open source tool for creating and modifying subtitles.
Aegisub's goal is to support using these advanced functions with ease.
Aegisub makes it quick and easy to time subtitles to audio, and features many powerful tools for styling them, including a built-in real-time video preview.
Aegisub natively works with the Advanced SubStation Alpha format (aptly abbreviated ASS) which allows for many advanced effects in the subtitles, apart from just basic timed text.
http://www.aegisub.org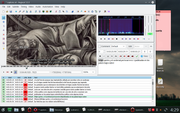 We could use this software for moving to parts of a video, by using "search next" and detaching Video window; I made following script for that purpose.:
Aegisub.sh
Code: Select all

#!/bin/bash
#
#Aegisub - Editor de subtitulos , subtitles
# Get Window ID
WID=`xdotool search --name aegisub | tail -n 1`
#Key F3 busca siguiente (search next - Aegisub)
xdotool windowactivate $WID key F3
#Ctrl+P Play highlighted subtítulo - Aegisub)
xdotool windowactivate $WID key Ctrl+p