GloboNote - Free note taking application
http://globonote.info
Platform Independent. Run on Windows, Linux or MacOS (

Requires Java 6 or higher

installed).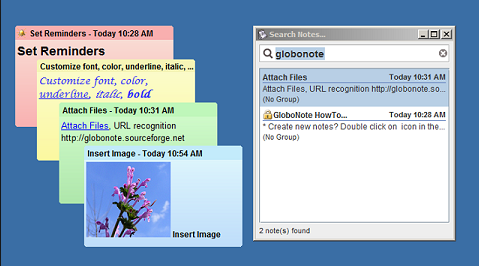 Here, How it looks in debian plasma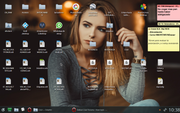 Ive tested most of stickies apps available for linux, and

globonote is the best and most powerfull of all of them

.
CONS: Require Java
PROS:
It works fine with all desktops.
****Interesting Features, others doesnt offer:
Rich text editing.

Change font and size. Make it bold, italic, underline or strike-through.


Compact roll-up.

Make size of rolled-up note smaller to avoid consuming too many spaces on your desktop.


Roll-up note.

Make note to auto roll-up when not used.


Always on top.

Make note to always stay on top of other window.


Lock note.

Lock note to prevent unintended editing or deletion of note


Attach files.

Attach file on note then double click to launch it.


Attach image.

Attach images on notes. Auto resize image to fit the note.


Set Alarms/Reminders.

Create alarms and remind yourself of important events. Set recurring alarm, play custom sound, supports wav, aiff and mp3.


Search Notes.

Locate your notes using the search tool. Search while you are typing.
Rest of features, here: http://globonote.info/features