Code: Select all

# free -m
total used free shared buff/cache available
Mem: 3406 64 3207 81 134 3021
Swap: 0 0 0
#
FatDog (based on Linux from Scratch) initial boot to using fp IDE, mc, style desktop (text user interface - tui), wireless net connected. From there I can ssh into hashbang for irc, email, bbs' ..etc. Initial boot free -m as above.
Secondary boot (exiting tui) loads fd64 main sfs, full blown X desktop environment with Chrome, Libre etc.
Boots from usb, with multi-save session saving back to usb. i.e. usb can be unplugged after booting and it all runs in ram. Only need to reattach usb if I want to run a 'save' i.e. configuration change. All data stored elsewhere, so generally I boot the exact same 'clean' system every time, use it, shut down without saving (no risk of a crack being made persistent across reboots). Chome is included in that, clean/new after each reboot, so I store bookmarks in a text file - tilda caters for clickable links, so when viewing that bookmarks files I can click/add/remove those links easily.
tui remains available in the gui session, using tilda drop down terminal (F1 to show/hide, Quake style). I have a ncurses menu - similar in appearance/operation to mc style, where clicking menu options (program launch) that opens a new tilda tab with that program loaded into that tab (or opens the gui window for gui programs, Fatdog uses Openbox). So I can for instance still run w3m on hashbang if I so desire. On hashbang sessions run under tmux.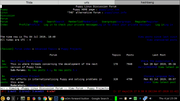 Presently, writing this (in Chrome) ... with moderate/heavily active desktop
Code: Select all

# free -m
total used free shared buff/cache available
Mem: 3406 410 2071 588 924 2026
Swap: 16383 0 16383
#
Again that's all running in ram, no usb attached, no HDD mounted.
F1 shows tui ...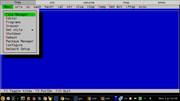 F1 again hides tui to reveal the gui desktop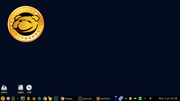 I live in UK, but like to ssh into US, so most of my data is via that ssh tunnel. I even set hashbang as my socks proxy so local Chrome/dns lookups also flow through the ssh tunnel. So web sites (or in the following image BBS's) see my IP as being a US based IP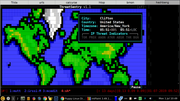 For sensitive connections, such as online paying credit card bill for instance, I use my local ISP's routing/dns after having re-booted a 'clean' session.