Enjoying
EasyOS
1.0 (similar, but different, to Puppy Linux).
Runs from a squashed filesystem (sfs), with a folder as the save area layered on top of that. Includes tools to make sfs copies of that save area, so you can use those to quickly/easily roll backwards/forwards to any desired snapshot.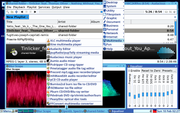 Includes 'containers' (Xephyr and pflask (chroot, capabilities dropped etc.). So even though it still runs as 'root' (as per Puppy's), the root inside a container is heavily restricted - as good as a restricted userid. But totally avoids having to enter passwords (that otherwise could be eavesdropped).
Loads of things included in the core system, LibreOffice, Scribus, Gimp ...etc. (and lots of useful small utilities). All within a 400MB sfs (I remember the days when getting even just a libreoffice sfs to be much under that was a achievement).