Re: What does your non-Debian desktop look like?
Posted:
2020-02-17 14:24
Well, I decided that as I was in no state to hack PWM and I wanted to try something that was light, stable but current so I decided I'd try the venerable TWM.
Wow. Once you get past the horrible green OOTB thing and start reading probably the best man page ever.. It turns out to be very capable, dare I say powerful and actually quite a joy to use.
The only issue I encountered was when trying it on Buster (this was meant to be in the other thread!) Unfortunately I got a permissions error and could only start it as root! Logged out shutdown and restarted or at least tried to because I'd got a non bootable system. I tried the usual rescue mode and grub-rescue but no go so I repeat via a live CD, still no go so after a little rtfm it seems the disk is likely dying. I try fsck but no luck with that either. Anyway I formatted the drive and installed exe-gnu and the damn thing worked. Shall wait and see if the drive is going to go or if buster is trying to live up to it's name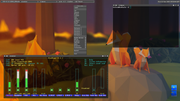 .twmrc for the brave
http://sprunge.us/LdFHYC