Re: What does your desktop look like?
Posted:
2018-10-02 20:08
Full install of Stretch to HDD. apt-get install live-boot mksquashfs ... and
configured to boot using a empty /live/filesystem.squashfs, where the HDD is the 'persistence' partition (i.e. fully installed files) and its booted read only (no changes preserved across reboots)
.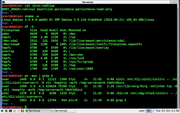 X set to run as non-root. Nice for booting the exact same system each time, where you can also test things out and a reboot has things back as they were before. When you do want to update/change things then boot the main HDD session (read/write (changes preserved)), apply changes and reboot back to live-boot again.