Re: What does your desktop look like?
Posted:
2019-10-12 10:47
GNOME: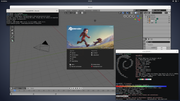 Changed shell to zsh with
grml's configuration
(providing the spell correction and menu-style autocompletion, git status is also included in the prompt) and
zsh-syntax-highlighting
. It's running in (u)xterm with a custom autostart script to merge the .Xresources file manually, otherwise the configuration doesn't work under Wayland.
Running the new version of Blender from the downloaded tarball in $HOME