Hi crew,
I am new to this forum, but not to Debian nor the Linux users world. I've been using various distros since 2007, including Debian from time to time.
But since some weeks, I have a crazy long boot time I can't explain, even after googling the problem. I think I am mislead by the ACPI error message, that seems to be a common bug with no impact on performances.
I do have some systemd networking.service problem I could solve. But my kernel time is long and I can't figure out why. Could you please help me figuring out why?
Here is the startup screen: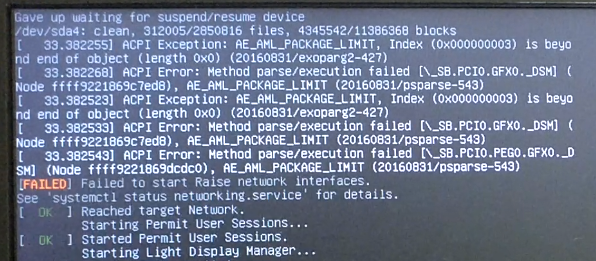 Systemd-analyze output:
Code: Select all

anghi@asus-k53sd:~$ systemd-analyze time
Startup finished in 32.501s (kernel) + 9.527s (userspace) = 42.029s
anghi@asus-k53sd:~$ systemd-analyze blame
5.955s NetworkManager-wait-online.service
1.575s networking.service
1.461s dev-sda4.device
1.178s dev-loop1.device
1.178s dev-loop0.device
615ms apt-daily.service
411ms systemd-rfkill.service
403ms apt-daily-upgrade.service
377ms ModemManager.service
337ms mnt-Donnees.mount
257ms NetworkManager.service
222ms accounts-daemon.service
213ms lm-sensors.service
209ms polkit.service
160ms keyboard-setup.service
145ms upower.service
122ms systemd-timesyncd.service
100ms systemd-journald.service
98ms snap-core-4486.mount
95ms alsa-restore.service
93ms rsyslog.service
90ms snap-core-4571.mount
86ms user@1000.service
lines 1-23...skipping...
5.955s NetworkManager-wait-online.service
1.575s networking.service
1.461s dev-sda4.device
1.178s dev-loop1.device
1.178s dev-loop0.device
615ms apt-daily.service
411ms systemd-rfkill.service
403ms apt-daily-upgrade.service
377ms ModemManager.service
337ms mnt-Donnees.mount
257ms NetworkManager.service
222ms accounts-daemon.service
213ms lm-sensors.service
209ms polkit.service
160ms keyboard-setup.service
145ms upower.service
122ms systemd-timesyncd.service
100ms systemd-journald.service
98ms snap-core-4486.mount
95ms alsa-restore.service
93ms rsyslog.service
90ms snap-core-4571.mount
86ms user@1000.service
83ms systemd-udevd.service
75ms systemd-tmpfiles-setup-dev.service
67ms systemd-modules-load.service
66ms sys-kernel-debug.mount
64ms dev-mqueue.mount
63ms systemd-udev-trigger.service
61ms avahi-daemon.service
52ms colord.service
50ms speech-dispatcher.service
48ms lightdm.service
47ms udisks2.service
44ms snapd.autoimport.service
41ms kmod-static-nodes.service

See below the .svg
https://drive.google.com/open?id=1QHuVg ... eVNFdf4PR0
System config:
Debian 9.4 x86-64
Kernel 4.9.0-6-amd64
Core i5-2450m
Geforce 610m
/ on a ssd, ext4 on sda
Grub on /dev/sdb, a HDD (for my wife to avoid seeing the Grub screen by default everytime she uses the laptop. So I manually boot on sdb to get Grub)
Dualboot with W10
Thanks all