Hey,
I have a desktop with a R9 270X graphic card and two screens (1920*1080). Both screens are linked to the graphic card
via
DVI (one screen to one socket and the other screen to the other socket). Everything works fine on Debian 8 (MATE).
I've just installed Debian 9 (MATE) on that computer. I've ended with a rubbish resolution of 1024*768 on both screen. The other issue is that just one screen is recognize. Nevertheless, the other screen works but like a mirror of the first one.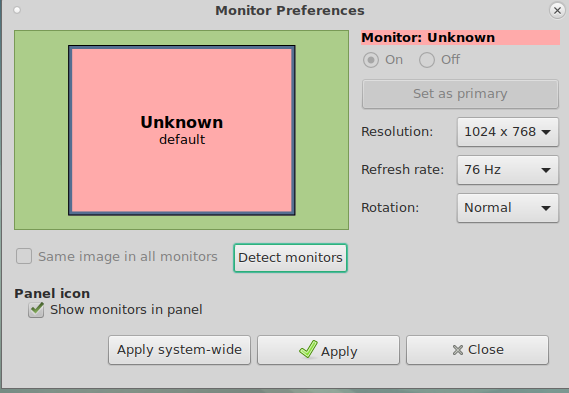 Code: Select all

mikael@DESKTOP:~$ lspci -nn | grep VGA
01:00.0 VGA compatible controller [0300]: Advanced Micro Devices, Inc. [AMD/ATI] Curacao XT / Trinidad XT [Radeon R7 370 / R9 270X/370X] [1002:6810]

Code: Select all

mikael@DESKTOP:~$ xrandr
xrandr: Failed to get size of gamma for output default
Screen 0: minimum 1024 x 768, current 1024 x 768, maximum 1024 x 768
default connected primary 1024x768+0+0 0mm x 0mm
1024x768 76.00*

Could you help me fixing this problem ?
Thanks.