I have this old laptop I'm setting up for a friend (so he can try Linux). It's a Fujitsu Amilo Si 1520, and the BIOS doesn't have any options for CPU or fan controls — and it gets quite hot.
The fan works, but in an unwanted way. It starts at ≈ 60°C, and stops again at 50°C. In between it's all quiet.
I installed TLP installed and set it up to run in battery mode all the time. That keeps it mostly at ≈ 55°C. Still to warm.
The problem is that neither sensors-detect or pwmconfig pick up the fan, and I haven't found anything in the proc|sys-files that hopefully could indicate at least something about the fan. Was hoping to find some values to fiddle around with.
The fan is an
ADDA AB5505HB-HBB
. A 4-pin fan, but not a PWM …appearently.
Here's a pic if that helps: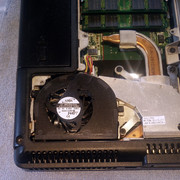 Is there
any
way to control the fan, without hardware modding? It would be great if I could set a low rpm, like a "min-speed", or if is a way to manually change the interval from 40-50 (instead of 50-60).
Any ideas?
Best,
· Eric