Why a Raspberry Pi?
The Raspberry pi is a very inexpensive credit card sized ARM single board computer. What I write below is based on the B-model, which I have, costing only 35 USD.
There are several major advantages with the Raspberry Pi.
* Dirt cheap.
* Uses only 3,5 W of electricity.
* Completely silent, since it does not have a fan.
* Plays full HD video files.
The Raspberry pi was not designed for being a media center, but the ability to play full HD video files has made quite a few people use it as one, and custom made distributions like RaspBMC demonstrates this.
Unboxing and setup
I ordered my Raspberry Pi from Element 14, and unfortunately it turned out it had a rough trip. The packaging was not the best, and the little knob by the power supply and some pins were slightly bent. Fortunately everything worked despite of the damage.
For power supply I used an old mobile phone charger purchased for a Sony Ericsson. The Raspberry Pi B-model must have a 5V power supply and at least 700ma.
The SDHC card to store the OS on was a Sandisk 16GB Class 4. The Raspberry Pi can be choosy as to what cards it runs on, and fortunately it worked out OK.
The OS I chose for it was Raspbian. A custom and stripped down Debian Wheezy OS with the LXDE desktop environment. I downloaded the image here:
http://www.raspberrypi.org/downloads
You can use DD to transfer the image to the card in GNU/Linux. Instructions are found here:
http://elinux.org/RPi_Easy_SD_Card_Setup
If you have a Windows computer available you can use the Win32DiskImager application as shown here:
http://blog.modmypi.com/2012/05/raspber ... guide.html
The card reader on my Debian box did not work correctly, so I *cough* used the Windows method *cough*.
I then plugged the SDHC card in, attached a HDMI cable from the TV, and finally plugged in the power supply. Lights started blinking on the board and text was flying over the TV screen. It worked!
On first boot you will be greeted by the raspi-config utility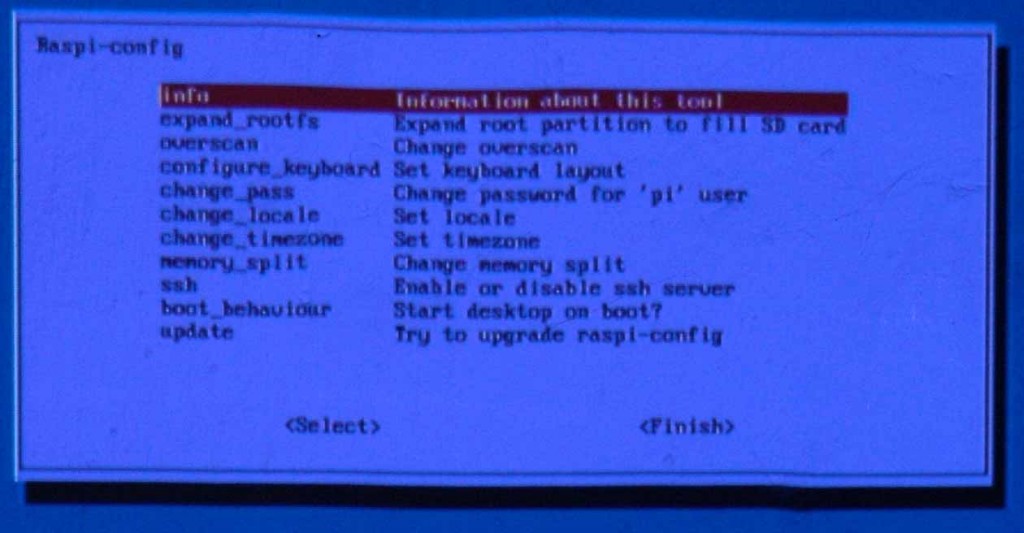 As you can see it offers an easy way to expand the root partition to fill the entire SDHC card, changing the time zone, language, etc.
Additional configurations can be found in /boot/config.txt
I had big black borders around the image, and fixed the issue by disabling overscan in the raspi-config utility.
While you are at it, it is a good idea to change the password.... The default username is pi and the password is raspberry. The Raspberry Pi comes with sudo enabled by default, and you might for the sake of habit and/or convenience want to enable the root account with sudo passwd root.
To view the current state and screen resolution, you can issue the following command:
In my case I get this:
Full HD!
To list the possible resolutions on your screen, type this for CEA modes:
And this for a list of DMT supported modes:
View this page for more options on video settings:
http://elinux.org/RPi_config.txt
My own /boot/config.txt file looks like this:
Edit it like you want with:
Save with Control + X and click Enter to exit.
The desktop – playing multimedia
The desktop itself is quite basic with just a few applications installed and also a few games. Here is what the desktop will look like after installation:
Keep in mind that the Raspberry Pi is a very weak computer. In fact most smartphones are faster than it. So don't expect to run VLC with all the bells and whistles. It will not play the movie, but it will cause a horrible slowdown and make the system unresponsive.
The only player that will utilize the GPU acceleration is the
omxplayer
. It should be installed by default, but it is also so basic that it is CLI only.
Still, you don't have to open the CLI every time you want to watch a movie. You can easily add a menu shortcut and execute the player every time you click a media file:
First
Add these values:
Save and exit.
A menu icon should now be in place, and you can right click on media files and click Open with Omxplayer! Even full HD movies play just fine!
(You may want to ask why I didn't just install XBMC on top. The fact is I did compile it from source and ran it with xinit (without a GUI in the background). Apart from a few freezes and general low responsiveness, movies were choppy after a few hours of uptime and the CPU was constantly at some 80% even if nothing happened on the screen. (XBMC kept drawing frames regardless.) Being used to the awesomeness of Debian, going back was a no-brainer.
)
Edit 22.08.12:
Fonts and web browsing
Font rendering may be in the eye of the beholder, but I did not like the font rendering of Raspbian one bit. Fortunately it was easy to fix:
I turned autohinting on. Sub pixel hinting was left on auto. Then reboot and see the difference.
Midori is the default web browser. Maybe I did something wrong in turning on the adblock. I don't know. But the system spiked to 100% CPU and the system became totally unresponsive when I visited an online newspaper.
I had much better luck with NetSurf, that was also installed by default. It had good page rendering as well and did not eat up all my CPU. Dillo was even leaner and faster, but some pages were not rendered properly. I still consider both of them excellent choices for the Raspberry Pi.