What is TDE?
The Trinity Desktop Environment project (TDE) is a fork of KDE 3.5, organised and led by Timothy Pearson. This project aims to release continuing bug fixes, additional features, and compatibility with recent hardware. Trinity is packaged for Debian, Ubuntu, Red Hat and various other distributions.
This howto will require adding a personal package archive. This is a software repository that enables the developer, whose
software is not in the official Debian repository
, to bring software and updates to that software to users of Debian. If you don't know what you are doing, please don't continue.
I have tested all the steps in this howto without issue. In fact I run TDE on two different netbooks myself.
Why TDE?
Very feature rich.
Low RAM consumption (about 130 MB RAM with Konqueror web browser).
Very efficient. If you use TDE applications, RAM usage will rise very slowly.
Great localization.
How does it look?
If you don't remember KDE3.5, here are some screenshots: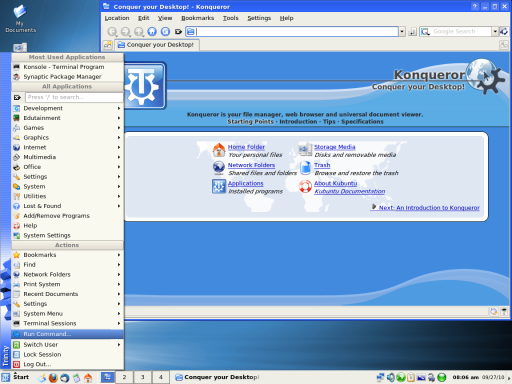 A Youtube-video showing TDE in a virtual machine:
https://www.youtube.com/watch?v=UUcDpMgEUck
How to install it
The first thing you need to edit is your sources.list (as root)
OR
The next thing we want to do is adding the key from the ppa:
PS: If you already have a different desktop environment installed, you can probably select TDE somehere on the login screen after reboot. If not, you will boot into your old desktop environment.
To delete your old desktop environment, type (as root)
# tasksel
Next, unmark the "deskop environment" box, and then apply the changes.
See also:
https://wiki.trinitydesktop.org/Debian_ ... structions